Re-post from my tumblr blog:
I hope you enjoy the previous post of
holiday series
about gift wrapping. Since, I am still obsessed with gift wrapping,today I have more gift wrapping ideas to share with everyone. Does anyone love stamping? One thing that I love about stamping that we can create patterned surface. Many of you might have seen using stamp to create pattern for gift wrapping paper. Stamped gift wrap paper is an inexpensive but creative way for DIY gift wrapping. It is such a fun way to personalized a gift.
There are several alternatives ways to make the stamps. Let's take a look.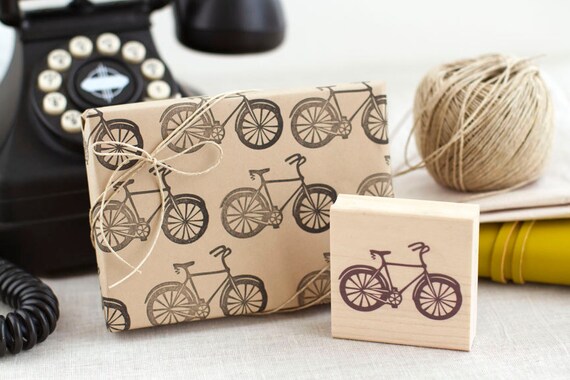 1. Using rubber stamps to create patterned gift wrap paper. (Bicycle stamp from
Brown Pigeon
)
4. This is a cool idea that I found at
Paper Plate and Plane
! Take a closer look and you will see that this gift wrap paper were created by using date stamp.
Are you ready to be creative? There are many more possibilities on how to create stamps…I'm sure. Let's experiment on other materials!
Happy stamping!!!